Nakanogumi's long history have started when young Tadashi Nakano came up to Kyoto from Okayama and started working as a plasterer in 1920s.
Since then the technique and tradition handed down over four generations (about 100 years of experience) in beautiful traditional city, Kyoto.
Company President : KAZUTAKA NAKANO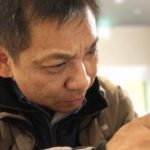 Third-generation and current President of NAKANOGUMI.
Known as a well-experienced, skilled plaster craftsman. He has not only inherited and preserving the Japanese traditional skills but also positive to adopt new methods and materials, with flexible mind. Very avid trainer, working hard to give educatiion of inherited techniques to young craftmen. His son Ryuta Nakano is surpporting his work as fourth-generation.
"We carry out all aspects of interior and exterior plastering, smooth and decorative surfaces"
Sakan (plasterer) is the work of finishing a wall, floor or furniture with a trowel and plastering materials.
Unlike mass-produced products, you can get the only original texture in the world.
Not only our good-old-Japanese style, but it can also be finished with the latest materials from all over the world. We also have licenses for a variety of materials.
Hanchiku style wall (Jolypate)
we are well-experienced to make "Hanchiku" style wall.
Please use the following form for plastering orders.